Other Publishing Resources/
Publishing Guide Books: Literary Agents / Self Publishing / Creative Writing Guides


Stanley and Liza Rogers:
Just Because. Poetry Without Rules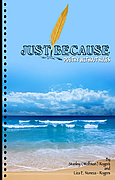 Stanley & Liza Rogers' intentions are clear in these heartening and solicitous poems. They embrace the fact that we need to live and value the "now" instead of the "later." They give new significance to the cliché "take the time to love each other, while we all have the opportunity to say thank you to each other." So many of us never recognize what we have lost until it is too late. That is why it is essential that we always articulate our intentions to our loved ones-Just Because. About the Authors: Stanley Rogers (Wolfman) was born in St. Kitts. Presently, he is working as a civilian in support of the men and women of the Armed Forces of the United States of America. A poet at heart, his other compilations include "The Conversations We Have," "Self-Expressions in Poetry" and "Keep it Going" (poetry and forgiveness). Liza E. Nuneza-Rogers was born in Agusan Del Sur, Philippines. She graduated CUM LAUDE, with a Bachelors of Secondary Education in General Science from Mindanao State University. A part-time teacher and writer by profession, she believes that life is too short for anything but giving your best in everything you do.
ISBN: 9781595691866

Amazon.com (US); Barnes&Noble (US); Borders (US); Amazon.co.uk (UK);
Amazon.de (Germany); Amazon.fr (France); Amazon.jp (Japan);
Amazon.ca (Canada); BEST DEAL: THEBOOKDEPOSITORY (US / UK)